Lagoon 77 2021
€41,000 - €56,350 / WEEK

Plus Expenses
CHARGES
FROM
€41,000
Plus Expenses
---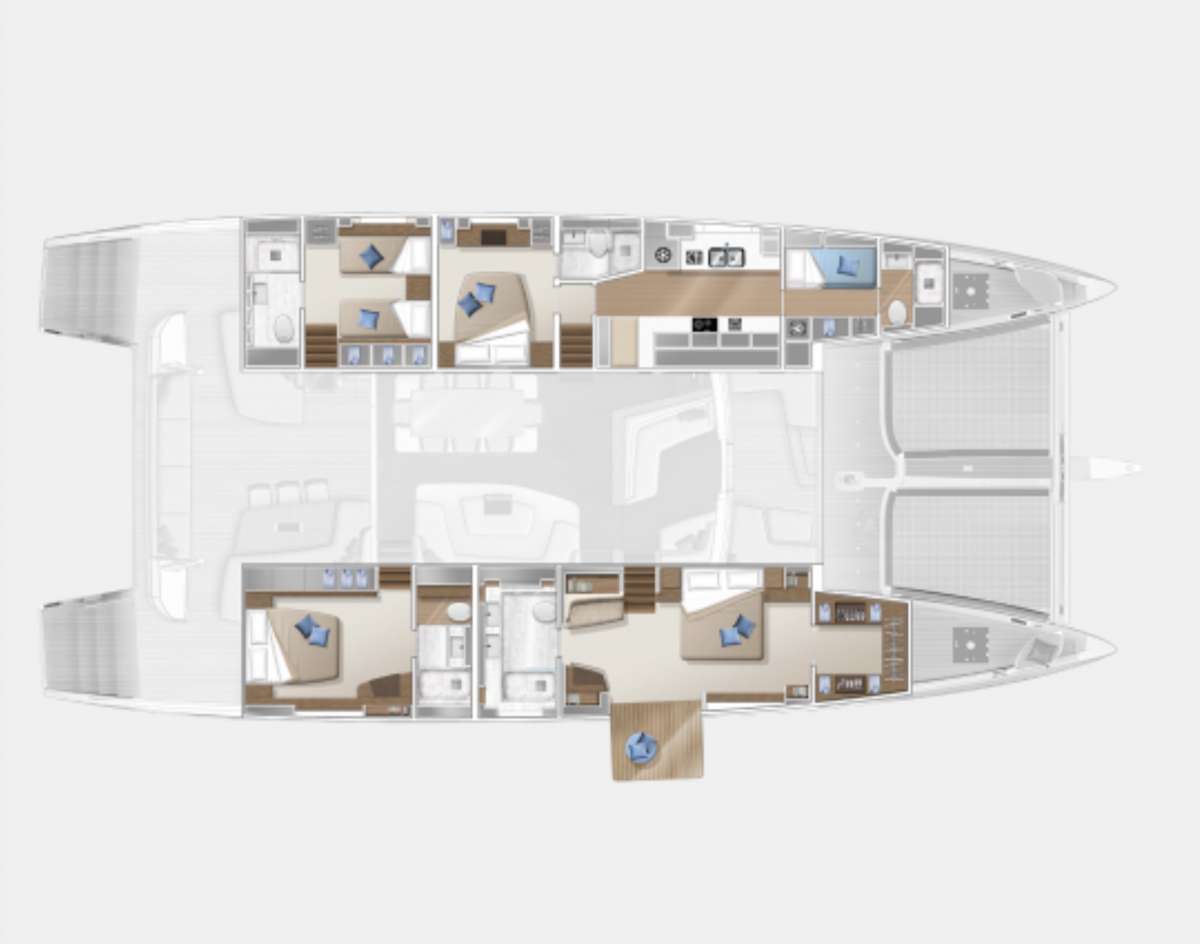 Boat Details
| | |
| --- | --- |
| Cabins: | 4 |
| King: | - |
| Queen: | - |
| Single Cabins: | - |
| Showers: | 4 |
| Wash Basins: | - |
| Heads: | - |
| Electric Heads: | 4 |
Sample Menu
Breakfast

Daily cheese board and Fresh Fruit platter

English, Continental, and American style including:

Salmon salsa & croissants

Creamy Scrambled Eggs, roasted rosa tomatoes and bacon roses

Carrot and Walnut Pineapple muffins & Boiled eggs

Eggs Benedict with grilled sausages

Banana date and nut bread

Portholes

Blueberry Pancakes

Lunch

Mediterranean style Chicken Souvlaki, tzatziki, hummus, and pita bread

Grilled salmon with a broccoli walnut bake and honey mustard sauce

Salmon & Chorizo quiche

Tuna Nicoise Salad

Authentic Thai Chicken Pad Thai

BBQ Grilled Shrimp over Caribbean Salad

Lunch time Desserts

Margarita Bites

Caribbean Rum balls

Lime Sorbet

Pavlova

Key lime pie

Raw caramel stuffed dark chocolate figs

Appetizers

Caribbean Coconut curry butternut soup

Beetroot, Blue cheese and caramelised onion tartlets Eggplant rollatini

Sushi platter

Blue cheese, pear and walnut salad

Baked goats cheese crispy crostini

Dinner

Grilled Mahi-Mahi with Pineapple Mango Salsa & coconut rice

Shrimp Risotto

Honey roast pork tenderloin, creamy potatoes and spiralized zucchini

Filet Mignon with Brandy Peppercorn Sauce

Duck breast with port plum sauce over Gnocchi

Dessert

Tiramisu

Indian poached pears with vanilla ice cream

Apple pie cheese cake

Passion Fruit Panna Cotta with Raspberry Coulis

Chocolate Espresso bunt cake

Chocolate mousse

Canapés

Charcuterie board with Assorted Cured Meats, Cheeses & Olives

Broccoli and red pepper cheese roasted dip

Mexican black bean and beetroot hummus, creme Fraiche and guacamole

Oven Roasted Bacon Wrapped Blue Cheese Stuffed Dates

Caprese Bruschetta

Indian Vegetable samosas with a mango chutney dip

Baked brie with an orange, honey cardamon sauce
Pick Up Locations
| | |
| --- | --- |
| Pref. Pick-up: | - |
| Other Pick-up: | - |
---
Details
| | |
| --- | --- |
| Refit: | - |
| Helipad: | No |
| Jacuzzi: | No |
| A/C: | Full |
Engine Details
Special rates for her first year as a brand new yacht wanting to recreate a strong client base for the future
Fuel Consumption:
-
Cruising Speed:
-
Max Speed:
-
Locations
| | |
| --- | --- |
| Winter Area: | Caribbean Virgin Islands, Caribbean Leewards, Caribbean Windwards |
| Summer Area: | W. Med -Naples/Sicily, W. Med -Riviera/Cors/Sard. |
---
Amenities
| | |
| --- | --- |
| Salon Tv/VCR: | Yes |
| Salon Stereo: | Yes |
| Sat TV: | - |
| # of Videos: | - |
| # DVDs/Movies: | - |
| # CD's: | - |
| Camcorder: | - |
| Books: | - |
| Board Games: | Yes |
| Sun Awning: | - |
| Deck Shower: | Yes |
| Bimini: | Yes |
| Water Maker: | Yes |
| | |
| --- | --- |
| Special Diets: | Yes |
| Kosher: | Yes |
| BBQ: | Yes |
| # Dine In: | - |
| Minimum Age: | - |
| Generator: | ONAN 27Kva 1500rpm 220V/50HZ + |
| Inverter: | PACK 2 INVERTERS 24/220V 5000 |
| Voltages: | 24/220V |
| Water Maker: | Yes |
| Water Cap: | 1600L |
| Ice Maker: | Yes |
| Sailing Instructions: | Tiw |
| Internet Access: | Onboard WIFI |
| | |
| --- | --- |
| Gay Charters: | Yes |
| Nude: | No |
| Hairdryers: | - |
| # Port Hatches: | - |
| Guests Smokes: | Aft deck only |
| Crew Smokes: | Inq |
| Pets Aboard: | No |
| Pet Type: | - |
| Guest Pets: | No |
| Children Ok: | Yes |
| Hammock: | - |
| Windscoops: | - |
---
Water Sports
| | |
| --- | --- |
| Dinghy size: | 5m |
| Dinghy hp: | 100hp |
| Dinghy # pax: | 10 |
| Water Skis Adult: | Yes |
| Water Skis Kids: | Yes |
| Jet Skis: | - |
| Wave Runners: | - |
| Kneeboard: | - |
| Windsurfer: | Yes |
| Snorkel Gear: | 8 |
| Tube: | Yes |
| | |
| --- | --- |
| Scurfer: | No |
| Wake Board: | Yes |
| Kayaks 1 Pax: | - |
| Kayaks (2 Pax): | 2 |
| Floating Mats: | - |
| Swim Platform: | Yes |
| Boarding Ladder (Loc/Type): | aft |
| Sailing Dinghy: | Tiw |
| Beach Games: | Yes |
| Fishing Gear: | Yes |
| Gear Type: | - |
| Rods: | - |
Kemble Whitfield

Kemble has sailed in some of the most remote and exotic destinations around this planet. A passion for the Ocean is deep in his blood, he has Sailed, Surfed, Kiteboarded and explored his whole life…. He enjoys adding value to your sailing experience. Captain Kemble is all about adventure, Fun and excitement with a spot of relaxation to wind away the days at sea. Experience means freedom to push the limits and toast the days adventure. He will always have your back!


Lindi Whitfield

Wife to the Captain, Lindi is also the Admiral!

To say Lindi was born on the beach and in the waves is an understatement. Surfing from a young age, she grew up with the sun and sea in her hair. She loves to meet people. Cooking and travelling are her passions. Spending her life travelling to some of the world's most exotic destinations. Lindi attended authentic cooking schools learning from the local experts. For Lindi it is important to capture the essence of a dish from it's source, with the freshest ingredients, and in doing so creating tastes that will delight!


Stuart Brink

Stuart has always been in love with the ocean. He started surfing when he was 5, swam in the sea for hours, the ocean has been part of his DNA since then. His father built a 32' sailing yacht when he was 6, which he learnt to sail on. He has since sailed Hobie Cats, Surfed, Kite boarded and also been a crew member of the National Sea Rescue Institute in South Africa for 15 years. Earlybird brings all his passions together which he'll love sharing with you.


Michelle Brink

Michelle has always had a passion for being creative, cooking and adventure. Being a graphic designer, she finds it difficult not to incorporate design into everything that she does. Be it cooking, presentations, table settings or photography. Over the past few years the ocean has become an important part of her life, from sailing to surfing, to snorkelling and diving. Her sense of adventure has always lead her to meet new people and experience new adventures.
(15 December -30 April)
Caribbean Virgin Islands, Caribbean Leewards, Caribbean Windwards
(1 May - 14 December)
W. Med -Naples/Sicily, W. Med -Riviera/Cors/Sard.
| | | | | | | | | | | | | | | | | | | | | | | | | | | | | | | | |
| --- | --- | --- | --- | --- | --- | --- | --- | --- | --- | --- | --- | --- | --- | --- | --- | --- | --- | --- | --- | --- | --- | --- | --- | --- | --- | --- | --- | --- | --- | --- | --- |
| May 2021 | 1 | 2 | 3 | 4 | 5 | 6 | 7 | 8 | 9 | 10 | 11 | 12 | 13 | 14 | 15 | 16 | 17 | 18 | 19 | 20 | 21 | 22 | 23 | 24 | 25 | 26 | 27 | 28 | 29 | 30 | 31 |
| Jun 2021 | 1 | 2 | 3 | 4 | 5 | 6 | 7 | 8 | 9 | 10 | 11 | 12 | 13 | 14 | 15 | 16 | 17 | 18 | 19 | 20 | 21 | 22 | 23 | 24 | 25 | 26 | 27 | 28 | 29 | 30 | |
| Jul 2021 | 1 | 2 | 3 | 4 | 5 | 6 | 7 | 8 | 9 | 10 | 11 | 12 | 13 | 14 | 15 | 16 | 17 | 18 | 19 | 20 | 21 | 22 | 23 | 24 | 25 | 26 | 27 | 28 | 29 | 30 | 31 |
| Aug 2021 | 1 | 2 | 3 | 4 | 5 | 6 | 7 | 8 | 9 | 10 | 11 | 12 | 13 | 14 | 15 | 16 | 17 | 18 | 19 | 20 | 21 | 22 | 23 | 24 | 25 | 26 | 27 | 28 | 29 | 30 | 31 |
| Sep 2021 | 1 | 2 | 3 | 4 | 5 | 6 | 7 | 8 | 9 | 10 | 11 | 12 | 13 | 14 | 15 | 16 | 17 | 18 | 19 | 20 | 21 | 22 | 23 | 24 | 25 | 26 | 27 | 28 | 29 | 30 | |
| Oct 2021 | 1 | 2 | 3 | 4 | 5 | 6 | 7 | 8 | 9 | 10 | 11 | 12 | 13 | 14 | 15 | 16 | 17 | 18 | 19 | 20 | 21 | 22 | 23 | 24 | 25 | 26 | 27 | 28 | 29 | 30 | 31 |
| Nov 2021 | 1 | 2 | 3 | 4 | 5 | 6 | 7 | 8 | 9 | 10 | 11 | 12 | 13 | 14 | 15 | 16 | 17 | 18 | 19 | 20 | 21 | 22 | 23 | 24 | 25 | 26 | 27 | 28 | 29 | 30 | |
| Dec 2021 | 1 | 2 | 3 | 4 | 5 | 6 | 7 | 8 | 9 | 10 | 11 | 12 | 13 | 14 | 15 | 16 | 17 | 18 | 19 | 20 | 21 | 22 | 23 | 24 | 25 | 26 | 27 | 28 | 29 | 30 | 31 |
| Jan 2022 | 1 | 2 | 3 | 4 | 5 | 6 | 7 | 8 | 9 | 10 | 11 | 12 | 13 | 14 | 15 | 16 | 17 | 18 | 19 | 20 | 21 | 22 | 23 | 24 | 25 | 26 | 27 | 28 | 29 | 30 | 31 |
| Feb 2022 | 1 | 2 | 3 | 4 | 5 | 6 | 7 | 8 | 9 | 10 | 11 | 12 | 13 | 14 | 15 | 16 | 17 | 18 | 19 | 20 | 21 | 22 | 23 | 24 | 25 | 26 | 27 | 28 | | | |
| Mar 2022 | 1 | 2 | 3 | 4 | 5 | 6 | 7 | 8 | 9 | 10 | 11 | 12 | 13 | 14 | 15 | 16 | 17 | 18 | 19 | 20 | 21 | 22 | 23 | 24 | 25 | 26 | 27 | 28 | 29 | 30 | 31 |
| Apr 2022 | 1 | 2 | 3 | 4 | 5 | 6 | 7 | 8 | 9 | 10 | 11 | 12 | 13 | 14 | 15 | 16 | 17 | 18 | 19 | 20 | 21 | 22 | 23 | 24 | 25 | 26 | 27 | 28 | 29 | 30 | |
---