SUR L'EAU
$48,000 - $54,000 / WEEK

All Inclusive
CHARGES
FROM
$48,000
All Inclusive
---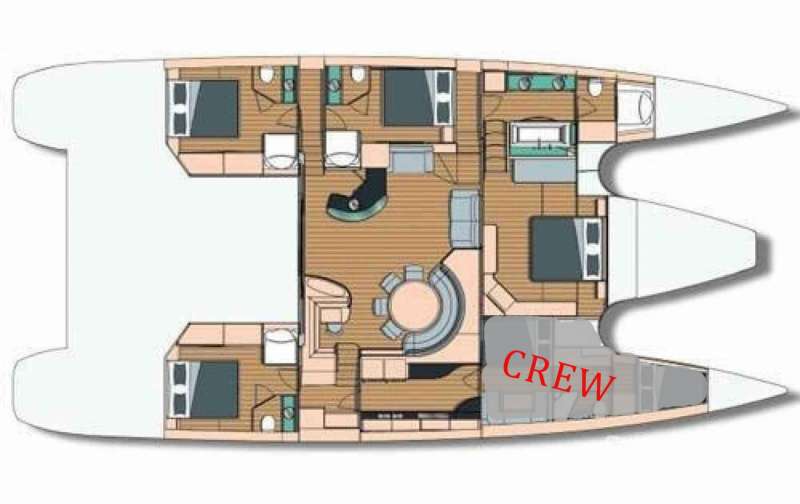 Boat Details
| | |
| --- | --- |
| Cabins: | 4 |
| King: | - |
| Queen: | 4 |
| Single Cabins: | - |
| Showers: | 4 |
| Wash Basins: | 4 |
| Heads: | - |
| Electric Heads: | 4 |
Sample Menu
| | |
| --- | --- |
| Teaser menu From Chef Amy | |
Pick Up Locations
| | |
| --- | --- |
| Pref. Pick-up: | Virgin Islands |
| Other Pick-up: | Grenadines |
---
Details
| | |
| --- | --- |
| Refit: | 2019 |
| Helipad: | No |
| Jacuzzi: | No |
| A/C: | Full |
Engine Details
-
Fuel Consumption:
5
Cruising Speed:
8 KNOTS
Max Speed:
12 KNOTSUS Gall/Hr
Locations
| | |
| --- | --- |
| Winter Area: | Caribbean Virgin Islands, Bahamas, Caribbean Leewards, Caribbean Windwards |
| Summer Area: | Caribbean Virgin Islands, Bahamas, Caribbean Leewards, Caribbean Windwards |
---
Amenities
| | |
| --- | --- |
| Salon Tv/VCR: | Yes |
| Salon Stereo: | Yes |
| Sat TV: | - |
| # of Videos: | - |
| # DVDs/Movies: | - |
| # CD's: | YES |
| Camcorder: | Yes |
| Books: | Yes |
| Board Games: | Yes |
| Sun Awning: | Yes |
| Deck Shower: | Yes |
| Bimini: | Yes |
| Water Maker: | YES |
| | |
| --- | --- |
| Special Diets: | Inq |
| Kosher: | No |
| BBQ: | Yes |
| # Dine In: | 8 g |
| Minimum Age: | - |
| Generator: | 29 kw |
| Inverter: | 5 KW & 2.5 KW |
| Voltages: | 110V & 220V |
| Water Maker: | YES |
| Water Cap: | 344 GALLONS |
| Ice Maker: | Yes |
| Sailing Instructions: | no |
| Internet Access: | - |
| | |
| --- | --- |
| Gay Charters: | Inq |
| Nude: | Inq |
| Hairdryers: | Yes |
| # Port Hatches: | - |
| Guests Smokes: | Aft Deck |
| Crew Smokes: | No |
| Pets Aboard: | No |
| Pet Type: | - |
| Guest Pets: | - |
| Children Ok: | Yes |
| Hammock: | Yes |
| Windscoops: | - |
---
Water Sports
| | |
| --- | --- |
| Dinghy size: | 15 ft |
| Dinghy hp: | 70 |
| Dinghy # pax: | - |
| Water Skis Adult: | 1 |
| Water Skis Kids: | 1 |
| Jet Skis: | No |
| Wave Runners: | No |
| Kneeboard: | 1 |
| Windsurfer: | No |
| Snorkel Gear: | Yes |
| Tube: | 1 |
| | |
| --- | --- |
| Scurfer: | No |
| Wake Board: | 1 |
| Kayaks 1 Pax: | No |
| Kayaks (2 Pax): | 2 |
| Floating Mats: | 1 |
| Swim Platform: | AFT DECK |
| Boarding Ladder (Loc/Type): | port & stbd ladder |
| Sailing Dinghy: | no |
| Beach Games: | - |
| Fishing Gear: | Yes |
| Gear Type: | - |
| Rods: | 4 |
CAPTAIN JESSE VAN WYK
Jesse grew up by the water in beautiful Cape Town surfing competitively, fishing and sailing. He completed his BSC in Marine Animal Science, after which he met his Fiancé, Amy Campion, his partner both on and off the boat. Captain Jesse is extremely comfortable in and on the water to say the least; he enjoys sailing, diving and water sports, but most importantly, he loves discovering beautiful anchorages for his guests to enjoy.

Amy Campion grew up in Durban, spending most of her mornings' paddle skiing or surfing with her father. She also loves to dive, snorkel, and continues to expand her wealth of sea knowledge that guests also get to enjoy. Thanks to Amy's passion for Caribbean marine animals, guests enjoy a dose of learning and exploring.

AMY CAMPION - Chef
Amy is an experienced Chef and versatile in catering to any dietary requirement. Before she started yachting, Amy worked, as a Graphic Designer. Though Graphic Design and Food might not seem related, they are in Amy's kitchen. She utilizes her previous experience to design a carefully curated one of kind meal for her guests. She trained in a catering kitchen in Cape Town before landing her first yachting role. Amy continues her cuisine education by participating in local courses in the different ports she and Captain Jesse have visited.

As a team, Captain Jesse and Chef Amy have managed many charters for the last six years. They are exceptionally experienced in the Caribbean and Mediterranean waters. Currently, they are thrilled to formally invite guests aboard Sur L'eau.

NICO JANSE VAN RENSBURG - Deck/Eng
Born and raised in the southern tip of Africa, I spent many a holiday on safari with my family where my love for the outdoors has grown deeper with every trip. But even in these early days the attraction of water was strong, and I ended up pursuing that as an open water swimmer. After school the oceans started calling and I soon realised where my true passion lay. I started my journey of yacht training and diving courses. I worked for a time on The Sustainable Seas Trust vessel, Boaz. This enabled me to accumulate not only invaluable experience but also notch up some sea miles. Following this an opportunity opened up for me working for a fleet of large charter catamarans in the fascinating country of Turkey. Today, learning not only yachtsmanship but the skills required in the hospitality industry.

I am a now a qualified RYA Offshore skipper and also an enthusiastic PADI Dive Master. Enjoying every moment above and below the waves and I can't wait to share the wonders of the Caribbean and the reefs with our guests.







(15 December -30 April)
Caribbean Virgin Islands, Bahamas, Caribbean Leewards, Caribbean Windwards
(1 May - 14 December)
Caribbean Virgin Islands, Bahamas, Caribbean Leewards, Caribbean Windwards
| | | | | | | | | | | | | | | | | | | | | | | | | | | | | | | | |
| --- | --- | --- | --- | --- | --- | --- | --- | --- | --- | --- | --- | --- | --- | --- | --- | --- | --- | --- | --- | --- | --- | --- | --- | --- | --- | --- | --- | --- | --- | --- | --- |
| May 2021 | 1 | 2 | 3 | 4 | 5 | 6 | 7 | 8 | 9 | 10 | 11 | 12 | 13 | 14 | 15 | 16 | 17 | 18 | 19 | 20 | 21 | 22 | 23 | 24 | 25 | 26 | 27 | 28 | 29 | 30 | 31 |
| Jun 2021 | 1 | 2 | 3 | 4 | 5 | 6 | 7 | 8 | 9 | 10 | 11 | 12 | 13 | 14 | 15 | 16 | 17 | 18 | 19 | 20 | 21 | 22 | 23 | 24 | 25 | 26 | 27 | 28 | 29 | 30 | |
| Jul 2021 | 1 | 2 | 3 | 4 | 5 | 6 | 7 | 8 | 9 | 10 | 11 | 12 | 13 | 14 | 15 | 16 | 17 | 18 | 19 | 20 | 21 | 22 | 23 | 24 | 25 | 26 | 27 | 28 | 29 | 30 | 31 |
| Aug 2021 | 1 | 2 | 3 | 4 | 5 | 6 | 7 | 8 | 9 | 10 | 11 | 12 | 13 | 14 | 15 | 16 | 17 | 18 | 19 | 20 | 21 | 22 | 23 | 24 | 25 | 26 | 27 | 28 | 29 | 30 | 31 |
| Sep 2021 | 1 | 2 | 3 | 4 | 5 | 6 | 7 | 8 | 9 | 10 | 11 | 12 | 13 | 14 | 15 | 16 | 17 | 18 | 19 | 20 | 21 | 22 | 23 | 24 | 25 | 26 | 27 | 28 | 29 | 30 | |
| Oct 2021 | 1 | 2 | 3 | 4 | 5 | 6 | 7 | 8 | 9 | 10 | 11 | 12 | 13 | 14 | 15 | 16 | 17 | 18 | 19 | 20 | 21 | 22 | 23 | 24 | 25 | 26 | 27 | 28 | 29 | 30 | 31 |
| Nov 2021 | 1 | 2 | 3 | 4 | 5 | 6 | 7 | 8 | 9 | 10 | 11 | 12 | 13 | 14 | 15 | 16 | 17 | 18 | 19 | 20 | 21 | 22 | 23 | 24 | 25 | 26 | 27 | 28 | 29 | 30 | |
| Dec 2021 | 1 | 2 | 3 | 4 | 5 | 6 | 7 | 8 | 9 | 10 | 11 | 12 | 13 | 14 | 15 | 16 | 17 | 18 | 19 | 20 | 21 | 22 | 23 | 24 | 25 | 26 | 27 | 28 | 29 | 30 | 31 |
| Jan 2022 | 1 | 2 | 3 | 4 | 5 | 6 | 7 | 8 | 9 | 10 | 11 | 12 | 13 | 14 | 15 | 16 | 17 | 18 | 19 | 20 | 21 | 22 | 23 | 24 | 25 | 26 | 27 | 28 | 29 | 30 | 31 |
| Feb 2022 | 1 | 2 | 3 | 4 | 5 | 6 | 7 | 8 | 9 | 10 | 11 | 12 | 13 | 14 | 15 | 16 | 17 | 18 | 19 | 20 | 21 | 22 | 23 | 24 | 25 | 26 | 27 | 28 | | | |
| Mar 2022 | 1 | 2 | 3 | 4 | 5 | 6 | 7 | 8 | 9 | 10 | 11 | 12 | 13 | 14 | 15 | 16 | 17 | 18 | 19 | 20 | 21 | 22 | 23 | 24 | 25 | 26 | 27 | 28 | 29 | 30 | 31 |
| Apr 2022 | 1 | 2 | 3 | 4 | 5 | 6 | 7 | 8 | 9 | 10 | 11 | 12 | 13 | 14 | 15 | 16 | 17 | 18 | 19 | 20 | 21 | 22 | 23 | 24 | 25 | 26 | 27 | 28 | 29 | 30 | |
---