CYNDERELLA
$44,000 - $50,600 / WEEK

Plus Expenses
CHARGES
FROM
$44,000
Plus Expenses
---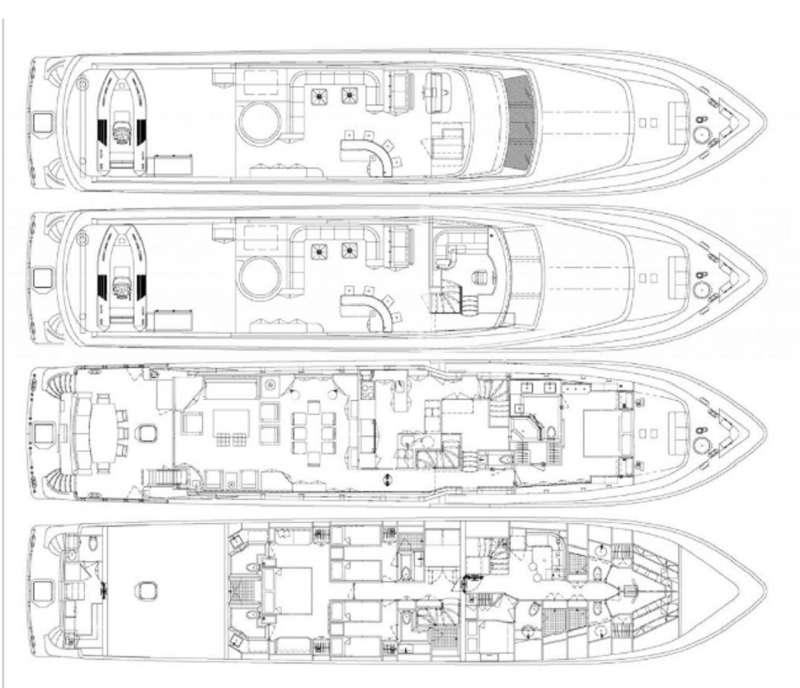 Boat Details
| | |
| --- | --- |
| Cabins: | 4 |
| King: | 2 |
| Queen: | 2 |
| Single Cabins: | - |
| Showers: | - |
| Wash Basins: | - |
| Heads: | - |
| Electric Heads: | - |
Pick Up Locations
| | |
| --- | --- |
| Pref. Pick-up: | - |
| Other Pick-up: | - |
---
Details
| | |
| --- | --- |
| Refit: | 2018 |
| Helipad: | No |
| Jacuzzi: | Yes |
| A/C: | Full |
Engine Details
-
Fuel Consumption:
12,0000L
Cruising Speed:
15kts
Max Speed:
20ktsUS Gall/Hr
Locations
| | |
| --- | --- |
| Winter Area: | Caribbean Virgin Islands |
| Summer Area: | USA - Annapolis - MD |
---
Amenities
| | |
| --- | --- |
| Salon Tv/VCR: | - |
| Salon Stereo: | - |
| Sat TV: | - |
| # of Videos: | - |
| # DVDs/Movies: | - |
| # CD's: | - |
| Camcorder: | - |
| Books: | - |
| Board Games: | - |
| Sun Awning: | - |
| Deck Shower: | - |
| Bimini: | - |
| Water Maker: | - |
| | |
| --- | --- |
| Special Diets: | Inq |
| Kosher: | Inq |
| BBQ: | - |
| # Dine In: | - |
| Minimum Age: | - |
| Generator: | - |
| Inverter: | - |
| Voltages: | - |
| Water Maker: | - |
| Water Cap: | - |
| Ice Maker: | - |
| Sailing Instructions: | - |
| Internet Access: | - |
| | |
| --- | --- |
| Gay Charters: | Inq |
| Nude: | Inq |
| Hairdryers: | - |
| # Port Hatches: | - |
| Guests Smokes: | - |
| Crew Smokes: | Inq |
| Pets Aboard: | No |
| Pet Type: | - |
| Guest Pets: | - |
| Children Ok: | - |
| Hammock: | - |
| Windscoops: | - |
---
Water Sports
| | |
| --- | --- |
| Dinghy size: | 15' Nautica Rib |
| Dinghy hp: | - |
| Dinghy # pax: | - |
| Water Skis Adult: | Yes |
| Water Skis Kids: | - |
| Jet Skis: | - |
| Wave Runners: | Yes |
| Kneeboard: | - |
| Windsurfer: | - |
| Snorkel Gear: | Yes |
| Tube: | Yes |
| | |
| --- | --- |
| Scurfer: | - |
| Wake Board: | Yes |
| Kayaks 1 Pax: | Yes |
| Kayaks (2 Pax): | - |
| Floating Mats: | Yes |
| Swim Platform: | Yes |
| Boarding Ladder (Loc/Type): | - |
| Sailing Dinghy: | - |
| Beach Games: | Yes |
| Fishing Gear: | Yes |
| Gear Type: | - |
| Rods: | - |
Captain - Paul Hannum
Having grown up in Maryland, Captain Paul spent much of his childhood exploring her coast and waterways. Paul is a hard worker, detailed oriented and trustworthy, his main concern is the safety of your group and of course making sure you have a great voyage.He has sail the US East Coast & ICW – New England to Florida Keys; Near Bahamas, Abacos, Bimini & Exumas; Erie, Oswego & Welland Canals; US & Canadian Great Lakes.
Captain Paul is an accomplished sport fishing tournament angler, so the chances of you catching fish for dinner is very good!

Executive Chef - Gavin McMichael's
Gavin culinary career spans more than 25 years. McMichael has worked in restaurants and foodservice his entire adult life in every capacity from server, to cook, to front of the house manager, to Chef. He has been fortunate to work in many types of cuisine including Italian, Southwestern, and Asian. McMichael gained chocolate and confection experience as Production Manager for chocolatier Coco Loco in Denver, Colorado while in culinary school at the School of Culinary Arts. The most formative time in McMichael's culinary career was working for celebrity chef and icon Stephan Pyle's, one of the forefathers of Southwestern cuisine. McMichael worked as Sous Chef, and later, as Executive Sous Chef at Chef Pyles flagship restaurant Star Canyon in Dallas, Texas. Among his other duties, McMichael worked as assistant to Chef Pyles on his television show "New Taste from Texas" where he had the opportunity to work with a who's who of the culinary world including Rick Bayless, and Patricia Quitana.
Since returning to the yacht industry Gavin has worked for some of the most high-profile yachts and charter yacht programs. With Gavin's background and skill sets he has been able to provide consistent high-quality culinary experiences earning a reputation to cater to all the varied guest preferences and requests.


Mate - Tyler Johnson
Tyler is from a fishing family out of Southern New Hampshire. He has worked on commercial, recreational and charter vessels from Maine to the Caribbean. Tiring of the cold winters up north, Tyler moved to the Virgin Islands over a decade ago to help vistors enjoy the waters around the islands he has grown to call home. A licensed Captain himself, Tyler's keen boating, fishing, and watersports skills help keep CynderElla's guests occupied during their stay aboard.


Chief Stewardess - Francis Romero
Francis calls Miami home but originally hails from beautiful Venezuela. With a strong background in hospitality and events planning, Francis' attention to detail, passion for life & taking care of others makes her the ideal person to ensure those aboard CynderElla have an exceptional experience. Her joyful attitude makes everyone feel welcome and her towel & napkin art will make you smile.







(15 December -30 April)
Caribbean Virgin Islands
(1 May - 14 December)
USA - Annapolis - MD
| | | | | | | | | | | | | | | | | | | | | | | | | | | | | | | | |
| --- | --- | --- | --- | --- | --- | --- | --- | --- | --- | --- | --- | --- | --- | --- | --- | --- | --- | --- | --- | --- | --- | --- | --- | --- | --- | --- | --- | --- | --- | --- | --- |
| May 2021 | 1 | 2 | 3 | 4 | 5 | 6 | 7 | 8 | 9 | 10 | 11 | 12 | 13 | 14 | 15 | 16 | 17 | 18 | 19 | 20 | 21 | 22 | 23 | 24 | 25 | 26 | 27 | 28 | 29 | 30 | 31 |
| Jun 2021 | 1 | 2 | 3 | 4 | 5 | 6 | 7 | 8 | 9 | 10 | 11 | 12 | 13 | 14 | 15 | 16 | 17 | 18 | 19 | 20 | 21 | 22 | 23 | 24 | 25 | 26 | 27 | 28 | 29 | 30 | |
| Jul 2021 | 1 | 2 | 3 | 4 | 5 | 6 | 7 | 8 | 9 | 10 | 11 | 12 | 13 | 14 | 15 | 16 | 17 | 18 | 19 | 20 | 21 | 22 | 23 | 24 | 25 | 26 | 27 | 28 | 29 | 30 | 31 |
| Aug 2021 | 1 | 2 | 3 | 4 | 5 | 6 | 7 | 8 | 9 | 10 | 11 | 12 | 13 | 14 | 15 | 16 | 17 | 18 | 19 | 20 | 21 | 22 | 23 | 24 | 25 | 26 | 27 | 28 | 29 | 30 | 31 |
| Sep 2021 | 1 | 2 | 3 | 4 | 5 | 6 | 7 | 8 | 9 | 10 | 11 | 12 | 13 | 14 | 15 | 16 | 17 | 18 | 19 | 20 | 21 | 22 | 23 | 24 | 25 | 26 | 27 | 28 | 29 | 30 | |
| Oct 2021 | 1 | 2 | 3 | 4 | 5 | 6 | 7 | 8 | 9 | 10 | 11 | 12 | 13 | 14 | 15 | 16 | 17 | 18 | 19 | 20 | 21 | 22 | 23 | 24 | 25 | 26 | 27 | 28 | 29 | 30 | 31 |
| Nov 2021 | 1 | 2 | 3 | 4 | 5 | 6 | 7 | 8 | 9 | 10 | 11 | 12 | 13 | 14 | 15 | 16 | 17 | 18 | 19 | 20 | 21 | 22 | 23 | 24 | 25 | 26 | 27 | 28 | 29 | 30 | |
| Dec 2021 | 1 | 2 | 3 | 4 | 5 | 6 | 7 | 8 | 9 | 10 | 11 | 12 | 13 | 14 | 15 | 16 | 17 | 18 | 19 | 20 | 21 | 22 | 23 | 24 | 25 | 26 | 27 | 28 | 29 | 30 | 31 |
| Jan 2022 | 1 | 2 | 3 | 4 | 5 | 6 | 7 | 8 | 9 | 10 | 11 | 12 | 13 | 14 | 15 | 16 | 17 | 18 | 19 | 20 | 21 | 22 | 23 | 24 | 25 | 26 | 27 | 28 | 29 | 30 | 31 |
| Feb 2022 | 1 | 2 | 3 | 4 | 5 | 6 | 7 | 8 | 9 | 10 | 11 | 12 | 13 | 14 | 15 | 16 | 17 | 18 | 19 | 20 | 21 | 22 | 23 | 24 | 25 | 26 | 27 | 28 | | | |
| Mar 2022 | 1 | 2 | 3 | 4 | 5 | 6 | 7 | 8 | 9 | 10 | 11 | 12 | 13 | 14 | 15 | 16 | 17 | 18 | 19 | 20 | 21 | 22 | 23 | 24 | 25 | 26 | 27 | 28 | 29 | 30 | 31 |
| Apr 2022 | 1 | 2 | 3 | 4 | 5 | 6 | 7 | 8 | 9 | 10 | 11 | 12 | 13 | 14 | 15 | 16 | 17 | 18 | 19 | 20 | 21 | 22 | 23 | 24 | 25 | 26 | 27 | 28 | 29 | 30 | |
---