BELLA VITA
$70,000 - $80,000 / WEEK
---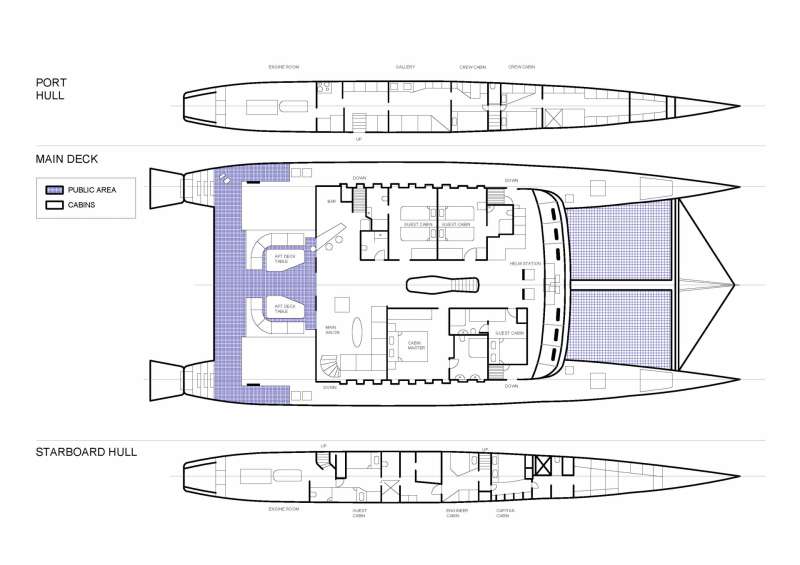 Boat Details
| | |
| --- | --- |
| Cabins: | 5 |
| Queen: | 1 |
| Single Cabins: | 1 |
| Showers: | 5 |
| Wash Basins: | - |
| Heads: | 6 |
| Electric Heads: | - |
Pick Up Locations
| | |
| --- | --- |
| Pref. Pick-up: | Tortola, BVI |
| Other Pick-up: | St.Thomas, USVI |
---
Details
| | |
| --- | --- |
| Refit: | 2018 |
| Helipad: | No |
| Jacuzzi: | No |
| A/C: | Full |
Engine Details
Main Engines: Caterpillar C7 454hp, Generators: (2) Cummins MDDCG (spec A-C) 62.5kW
Fuel Consumption:
14
Cruising Speed:
10
Max Speed:
13US Gall/Hr
Locations
| | |
| --- | --- |
| Winter Area: | Caribbean Virgin Islands, Caribbean Leewards, Caribbean Windwards |
| Summer Area: | Caribbean Virgin Islands, Caribbean Leewards, Caribbean Windwards |
---
Amenities
Salon Tv/VCR:
Yes
Salon Stereo:
Yes
Sat Tv:
SATVAV
Cellular Phone
Autopilot
GPS
Radar
# of Videos:
-
# DVDs/Movies:
Yes
# CD's:
-
Camcorder:
Yes
Books:
-
Board Games:
Yes
Sun Awning:
Yes
Deck Shower:
Yes
Bimini:
Yes
Water Maker:
Yes
| | |
| --- | --- |
| Special Diets: | Yes |
| Kosher: | Yes |
| BBQ: | Yes |
| # Dine In: | Yes |
| Minimum Age: | - |
| Generator: | Generators: (2) Cummins MDDCG |
| Inverter: | - |
| Voltages: | 220V, 110V, 24V. 12V |
| Water Maker: | Yes |
| Water Cap: | 900 |
| Ice Maker: | Yes |
| Sailing Instructions: | No |
| Internet Access: | Onboard WIFI |
| | |
| --- | --- |
| Gay Charters: | Yes |
| Nude: | Yes |
| Hairdryers: | Yes |
| # Port Hatches: | Yes |
| Guests Smokes: | On Deck |
| Crew Smokes: | No |
| Pets Aboard: | No |
| Pet Type: | - |
| Guest Pets: | - |
| Children Ok: | Yes |
| Hammock: | Yes |
| Windscoops: | - |
---
Water Sports
| | |
| --- | --- |
| Dinghy size: | 21' Rigid Inflatable Hull |
| Dinghy hp: | 115 |
| Dinghy # pax: | - |
| Water Skis Adult: | Yes |
| Water Skis Kids: | Yes |
| Jet Skis: | No |
| Wave Runners: | No |
| Kneeboard: | Yes |
| Windsurfer: | No |
| Snorkel Gear: | Yes |
| Tube: | Yes |
| | |
| --- | --- |
| Scurfer: | - |
| Wake Board: | Yes |
| Kayaks 1 Pax: | No |
| Kayaks (2 Pax): | Yes |
| Floating Mats: | No |
| Swim Platform: | Yes |
| Boarding Ladder (Loc/Type): | - |
| Sailing Dinghy: | No |
| Beach Games: | Yes |
| Fishing Gear: | Yes |
| Gear Type: | - |
| Rods: | - |
CAPTAIN OSWALDO CRUZ – Mexico
Oswaldo fell in love with the Ocean during his time in the Mexican Navy. After completing his service, he spent ten years developing a specialist dive center in which he took Mexico's elite on dive tours around the world. For several years he worked on many different shores including Canada, Egypt, and the Mediterranean. Oswaldo completed his RYA yacht-master training in the challenging waters around the UK, and in 2009 after moving to the BVI's he met Chef Briar. They have been working side-by-side ever since. Oswaldo's rich knowledge of the islands and witty sense of humor will ensure you have an unforgettable experience onboard BELLA VITA.

CHEF BRIAR SMITH – New Zealand
Like many adventurous Kiwi's, Briar left New Zealand to travel the world in her early 20's. This led her to discover a passion for food & cooking. She trained as a travel agent and worked in the UK for several years, a computer programmer in the USA for 2 years and as an avid volunteer worker in Israel and the Galapagos. Throughout this time Briar developed her culinary skills which she has since complimented with a number of training courses in the UK as well as advanced courses at 'Gastronomicom' in the South of France which is a world-renowned Michelin starred International training academy. This training, her love for food of all cultures and experience in the galley has her effortlessly delivering a variety of cuisines with amazingly full flavors. All dishes are presented with flair and elegance. Briar's enthusiasm for food and people will win you over and her attention to detail will ensure that your vacation aboard BELLA VITA is perfect.

STEWARDESS LARIO MOSTERT - South Africa
After working in the events industry for several years while completing an Event Management/ Hospitality Diploma program, it was an easy transition for Lario into yachting. With a specialty in private events/weddings and a unique desire to learn from her peers, she has worked in the yachting industry for 3 years and enjoys every minute of it. With a love for diving, detailing and whipping up a very delicious cocktail ;). Lario loves serving and meeting different people. She enjoys the outdoors especially hiking and has a passion for the water. Lario will make every guest feel extra special and welcome on board.

FIRST MATE EBEN VERSTER - South Africa
Eben (27) is a Mechanical Engineer who grew up in the South African countryside. He has always loved being in the ocean, swimming for hours on end as a kid. He learned to sail in the stormy waters of Cape Town, and holds a day skipper's ticket. When he's not sailing, he enjoys diving, surfing and flying. He is also currently learning French, and would love to live in the South of France one day.
Eben is highly creative and loves listening to, and making music. Accompanying himself or others on the piano. Another way in which he expresses his creativity is through poetry, publishing his first book in 2018. Before working in yachting, he had a very successful career in the technology industry as a strategist. His mind is wired to understand how things work, and to see the big picture. Therefore, he loves taking things apart and playing with computers. If you combine all of these traits together, you get a passionate individual who enjoys technology, great design, and especially people.

DECKHAND JP VLOK - South Africa
JP (21) grew up in the Northern Province of South Africa, learning a lot about hunting and nature as a child. Later moving to the Western Cape where he learned to love the ocean and everything that comes with. JP is an avid diver, loves making food and fishing. His biggest goal in life: being infectiously happy. After finishing school, he went on to travel through most of Southern Africa. Hiking, mountain biking and diving some of Africa's most beautiful locations. Having worked on a wine farm for a couple of months as well as in security and as a bar tender, JP goes out of his way to make sure everyone is having the time of their lives whilst staying safe doing it.

ENGINEER – KEMAR THOMPSON – Jamaica
Growing up in Jamaica and residing in the country area with his extended family, Kemar was always the first one to dismantle and fix things. His interest in learning about how equipment's work was peaked when he assisted in fixing a car engine at a tender age. He knew from then that he wanted a career that could combine his two loves, open water and fixing things. An Engineer by heart and a lover of the open water, Kemar pursued a career in Marine Engineering at the Caribbean Maritime University. After completing his studies in 2011, Kemar went to work on a commercial vessel as a Cadet for seven (7) months in 2009. After completing his seven (7) months, Kemar wanted to give back to his alma mater and was employed as a Marine Instructor from 2013-2014. He then started his professional sailing career in 2014. During his time of sailing he has worked on numerous vessels such as Tankers, Containers, General Cargos, Bulk Carriers, Motor and Sail Yachts. He currently holds a Marine Engineering License Reg.III/1 Unlimited and is working towards his Class 1 Unlimited CoC. Kemar enjoys meeting new people and is always the first to put a smile on faces. He believes his warm nature is what allows him to adapt to any environment he is in. Be kind, open to opinions, friendly, generous, and most important be respectful is words he constantly lives by. Though he is constantly hard at work, he will spare sometime to ensure your stay on-board Bella Vita is comfortable and fun.






(15 December -30 April)
Caribbean Virgin Islands, Caribbean Leewards, Caribbean Windwards
(1 May - 14 December)
Caribbean Virgin Islands, Caribbean Leewards, Caribbean Windwards
| | | | | | | | | | | | | | | | | | | | | | | | | | | | | | | | |
| --- | --- | --- | --- | --- | --- | --- | --- | --- | --- | --- | --- | --- | --- | --- | --- | --- | --- | --- | --- | --- | --- | --- | --- | --- | --- | --- | --- | --- | --- | --- | --- |
| Dec 2019 | 1 | 2 | 3 | 4 | 5 | 6 | 7 | 8 | 9 | 10 | 11 | 12 | 13 | 14 | 15 | 16 | 17 | 18 | 19 | 20 | 21 | 22 | 23 | 24 | 25 | 26 | 27 | 28 | 29 | 30 | 31 |
| Jan 2020 | 1 | 2 | 3 | 4 | 5 | 6 | 7 | 8 | 9 | 10 | 11 | 12 | 13 | 14 | 15 | 16 | 17 | 18 | 19 | 20 | 21 | 22 | 23 | 24 | 25 | 26 | 27 | 28 | 29 | 30 | 31 |
| Feb 2020 | 1 | 2 | 3 | 4 | 5 | 6 | 7 | 8 | 9 | 10 | 11 | 12 | 13 | 14 | 15 | 16 | 17 | 18 | 19 | 20 | 21 | 22 | 23 | 24 | 25 | 26 | 27 | 28 | 29 | | |
| Mar 2020 | 1 | 2 | 3 | 4 | 5 | 6 | 7 | 8 | 9 | 10 | 11 | 12 | 13 | 14 | 15 | 16 | 17 | 18 | 19 | 20 | 21 | 22 | 23 | 24 | 25 | 26 | 27 | 28 | 29 | 30 | 31 |
| Apr 2020 | 1 | 2 | 3 | 4 | 5 | 6 | 7 | 8 | 9 | 10 | 11 | 12 | 13 | 14 | 15 | 16 | 17 | 18 | 19 | 20 | 21 | 22 | 23 | 24 | 25 | 26 | 27 | 28 | 29 | 30 | |
| May 2020 | 1 | 2 | 3 | 4 | 5 | 6 | 7 | 8 | 9 | 10 | 11 | 12 | 13 | 14 | 15 | 16 | 17 | 18 | 19 | 20 | 21 | 22 | 23 | 24 | 25 | 26 | 27 | 28 | 29 | 30 | 31 |
| Jun 2020 | 1 | 2 | 3 | 4 | 5 | 6 | 7 | 8 | 9 | 10 | 11 | 12 | 13 | 14 | 15 | 16 | 17 | 18 | 19 | 20 | 21 | 22 | 23 | 24 | 25 | 26 | 27 | 28 | 29 | 30 | |
| Jul 2020 | 1 | 2 | 3 | 4 | 5 | 6 | 7 | 8 | 9 | 10 | 11 | 12 | 13 | 14 | 15 | 16 | 17 | 18 | 19 | 20 | 21 | 22 | 23 | 24 | 25 | 26 | 27 | 28 | 29 | 30 | 31 |
| Aug 2020 | 1 | 2 | 3 | 4 | 5 | 6 | 7 | 8 | 9 | 10 | 11 | 12 | 13 | 14 | 15 | 16 | 17 | 18 | 19 | 20 | 21 | 22 | 23 | 24 | 25 | 26 | 27 | 28 | 29 | 30 | 31 |
| Sep 2020 | 1 | 2 | 3 | 4 | 5 | 6 | 7 | 8 | 9 | 10 | 11 | 12 | 13 | 14 | 15 | 16 | 17 | 18 | 19 | 20 | 21 | 22 | 23 | 24 | 25 | 26 | 27 | 28 | 29 | 30 | |
| Oct 2020 | 1 | 2 | 3 | 4 | 5 | 6 | 7 | 8 | 9 | 10 | 11 | 12 | 13 | 14 | 15 | 16 | 17 | 18 | 19 | 20 | 21 | 22 | 23 | 24 | 25 | 26 | 27 | 28 | 29 | 30 | 31 |
| Nov 2020 | 1 | 2 | 3 | 4 | 5 | 6 | 7 | 8 | 9 | 10 | 11 | 12 | 13 | 14 | 15 | 16 | 17 | 18 | 19 | 20 | 21 | 22 | 23 | 24 | 25 | 26 | 27 | 28 | 29 | 30 | |
---