CUTE LITTLE CAT
$29,000 - $33,000 / WEEK
---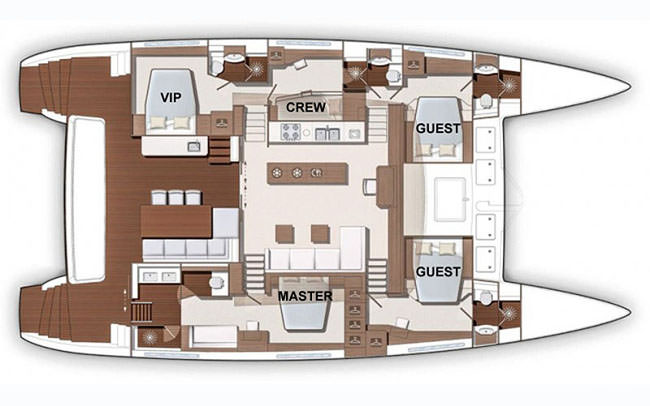 Boat Details
| | |
| --- | --- |
| Cabins: | 4 |
| Queen: | - |
| Single Cabins: | 1 |
| Showers: | 4 |
| Wash Basins: | - |
| Heads: | - |
| Electric Heads: | 4 |
Pick Up Locations
| | |
| --- | --- |
| Pref. Pick-up: | ST THOMAS |
| Other Pick-up: | BVI'S - St MARTIN |
---
Details
| | |
| --- | --- |
| Refit: | - |
| Helipad: | No |
| Jacuzzi: | No |
| A/C: | Full |
Engine Details
2 x 300 HP VOLVO 1 ONAM 19 KWA
Fuel Consumption:
10
Cruising Speed:
12
Max Speed:
16US Gall/Hr
Locations
| | |
| --- | --- |
| Winter Area: | Caribbean Virgin Islands, Caribbean Leewards |
| Summer Area: | New England |
---
Amenities
Salon Tv/VCR:
Yes
Salon Stereo:
Yes
Sat Tv:
Satellite TV (direct TV)
WIFI acces
1 VHF with DSC + 2 cordless VHF
# of Videos:
Array
# DVDs/Movies:
YES
# CD's:
YES
Camcorder:
-
Books:
YES
Board Games:
Yes
Sun Awning:
Yes
Deck Shower:
Yes
Bimini:
Yes
Water Maker:
yes
| | |
| --- | --- |
| Special Diets: | Inq |
| Kosher: | Inq |
| BBQ: | Yes |
| # Dine In: | - |
| Minimum Age: | - |
| Generator: | 1 ONAM 19 KWA |
| Inverter: | - |
| Voltages: | 24 1 220 V / conv. 110 |
| Water Maker: | yes |
| Water Cap: | - |
| Ice Maker: | Yes |
| Sailing Instructions: | - |
| Internet Access: | Onboard WIFI |
| | |
| --- | --- |
| Gay Charters: | Inq |
| Nude: | Inq |
| Hairdryers: | Yes |
| # Port Hatches: | - |
| Guests Smokes: | - |
| Crew Smokes: | Inq |
| Pets Aboard: | No |
| Pet Type: | - |
| Guest Pets: | No |
| Children Ok: | Yes |
| Hammock: | No |
| Windscoops: | - |
---
Water Sports
| | |
| --- | --- |
| Dinghy size: | Semi rigid tender 15ft |
| Dinghy hp: | YAMAHA 4 stroke - 60HP |
| Dinghy # pax: | - |
| Water Skis Adult: | Yes |
| Water Skis Kids: | - |
| Jet Skis: | - |
| Wave Runners: | - |
| Kneeboard: | - |
| Windsurfer: | - |
| Snorkel Gear: | Yes |
| Tube: | Yes |
| | |
| --- | --- |
| Scurfer: | - |
| Wake Board: | Yes |
| Kayaks 1 Pax: | - |
| Kayaks (2 Pax): | Yes |
| Floating Mats: | - |
| Swim Platform: | 2 |
| Boarding Ladder (Loc/Type): | 2 |
| Sailing Dinghy: | - |
| Beach Games: | Yes |
| Fishing Gear: | Yes |
| Gear Type: | - |
| Rods: | - |
WINTER - CARIBBEAN CREW
------------------------------------------

CAPTAIN: Jiorgos KOURTELIS
Greek
English fluent

Jiorgos began his sailing career when he was only 9 years old racing lasers, optimists and 4.70s.
He became a skipper when he was around 19 years old. Since then, he has sailed extensively the Mediterranean Sea, the Bahamas, Caribbean, the west coast of Africa, Pacific coast of Central America, and has crossed the Atlantic Ocean 12 times.
In 2001, he was decorated with the first- class medal of Honor by the Minister of Merchant Marine for his assisting role in the rescue mission of the passengers of the ferry boat Samina.
Today he is an extremely well-experienced sailing and motor Yacht captain, you may remember him sailing with his wife Kertin on Anassa, the Sunreef Catamaran charter yacht.
He is very adaptable, easy-going and sociable and will make your sailing vacation the trip of your life time with his adventure stories and his helpful attitude! He loves water sports, flying ultra-light airplanes and building wooden models.


DECK-HAND: Stelios CHRISTODOULAKIS
Greek
English fluent

Stelios was born in Athens. He studied motor engineering and has worked in the automotive industry until the age of 29.
Parallel to that he was spending his free time sailing and kite surfing.
Turning 30 he decided to follow his passion for the sea and become a professional crew member.
He is right hand and skipper Dimitris and takes care that all system on board Cute Little Cat function properly.


CHEF-HOSTESS: Janey BRYANT
South African
STCW10
Health & Safety course / City & Guilds, Food Plating course / Rouxbe Culinary school
English fluent,

Janey is a person who has grown up with a love for cooking.
She has developed a passion for making healthy, tasty food and sharing it with others. She is a naturally organized, neat person, which transcends into her working ethic.
She had a stable career in hospitality throughout her life and having just completed her first season on a sailboat in Croatia, she can say that it was her most successful achievement in her career and she enjoyed every moment of it.
Moving forward aboard CUTE LITTLE CAT she can excel in sharing her passion for cooking for guests.


RELIEF SUMMER CAPTAIN
Dimitris RODOPOULOS

Dimitris has been sailing since the age of 7. His father is a sailing instructor at Aegion Nautical Club, so Dimitris first started as a regatta sailor and entered professional skippering 14 years ago.
Since then he spends most of the summer either onboard a yacht or on the beach teaching kite-boarding as a recognised IKO instructor.
He has a BA in Economics from the University of Wales and has acquired a masters degree in sports management.
During the winter months he stays active working as a snowboarding instructor and rafting guide.
He was born in 1981 and speaks English fluently.

(15 December -30 April)
Caribbean Virgin Islands, Caribbean Leewards
(1 May - 14 December)
New England
| | | | | | | | | | | | | | | | | | | | | | | | | | | | | | | | |
| --- | --- | --- | --- | --- | --- | --- | --- | --- | --- | --- | --- | --- | --- | --- | --- | --- | --- | --- | --- | --- | --- | --- | --- | --- | --- | --- | --- | --- | --- | --- | --- |
| Dec 2019 | 1 | 2 | 3 | 4 | 5 | 6 | 7 | 8 | 9 | 10 | 11 | 12 | 13 | 14 | 15 | 16 | 17 | 18 | 19 | 20 | 21 | 22 | 23 | 24 | 25 | 26 | 27 | 28 | 29 | 30 | 31 |
| Jan 2020 | 1 | 2 | 3 | 4 | 5 | 6 | 7 | 8 | 9 | 10 | 11 | 12 | 13 | 14 | 15 | 16 | 17 | 18 | 19 | 20 | 21 | 22 | 23 | 24 | 25 | 26 | 27 | 28 | 29 | 30 | 31 |
| Feb 2020 | 1 | 2 | 3 | 4 | 5 | 6 | 7 | 8 | 9 | 10 | 11 | 12 | 13 | 14 | 15 | 16 | 17 | 18 | 19 | 20 | 21 | 22 | 23 | 24 | 25 | 26 | 27 | 28 | 29 | | |
| Mar 2020 | 1 | 2 | 3 | 4 | 5 | 6 | 7 | 8 | 9 | 10 | 11 | 12 | 13 | 14 | 15 | 16 | 17 | 18 | 19 | 20 | 21 | 22 | 23 | 24 | 25 | 26 | 27 | 28 | 29 | 30 | 31 |
| Apr 2020 | 1 | 2 | 3 | 4 | 5 | 6 | 7 | 8 | 9 | 10 | 11 | 12 | 13 | 14 | 15 | 16 | 17 | 18 | 19 | 20 | 21 | 22 | 23 | 24 | 25 | 26 | 27 | 28 | 29 | 30 | |
| May 2020 | 1 | 2 | 3 | 4 | 5 | 6 | 7 | 8 | 9 | 10 | 11 | 12 | 13 | 14 | 15 | 16 | 17 | 18 | 19 | 20 | 21 | 22 | 23 | 24 | 25 | 26 | 27 | 28 | 29 | 30 | 31 |
| Jun 2020 | 1 | 2 | 3 | 4 | 5 | 6 | 7 | 8 | 9 | 10 | 11 | 12 | 13 | 14 | 15 | 16 | 17 | 18 | 19 | 20 | 21 | 22 | 23 | 24 | 25 | 26 | 27 | 28 | 29 | 30 | |
| Jul 2020 | 1 | 2 | 3 | 4 | 5 | 6 | 7 | 8 | 9 | 10 | 11 | 12 | 13 | 14 | 15 | 16 | 17 | 18 | 19 | 20 | 21 | 22 | 23 | 24 | 25 | 26 | 27 | 28 | 29 | 30 | 31 |
| Aug 2020 | 1 | 2 | 3 | 4 | 5 | 6 | 7 | 8 | 9 | 10 | 11 | 12 | 13 | 14 | 15 | 16 | 17 | 18 | 19 | 20 | 21 | 22 | 23 | 24 | 25 | 26 | 27 | 28 | 29 | 30 | 31 |
| Sep 2020 | 1 | 2 | 3 | 4 | 5 | 6 | 7 | 8 | 9 | 10 | 11 | 12 | 13 | 14 | 15 | 16 | 17 | 18 | 19 | 20 | 21 | 22 | 23 | 24 | 25 | 26 | 27 | 28 | 29 | 30 | |
| Oct 2020 | 1 | 2 | 3 | 4 | 5 | 6 | 7 | 8 | 9 | 10 | 11 | 12 | 13 | 14 | 15 | 16 | 17 | 18 | 19 | 20 | 21 | 22 | 23 | 24 | 25 | 26 | 27 | 28 | 29 | 30 | 31 |
| Nov 2020 | 1 | 2 | 3 | 4 | 5 | 6 | 7 | 8 | 9 | 10 | 11 | 12 | 13 | 14 | 15 | 16 | 17 | 18 | 19 | 20 | 21 | 22 | 23 | 24 | 25 | 26 | 27 | 28 | 29 | 30 | |
---