DHARMA
€28,000 - €35,000 / WEEK
BUILT/REFIT
YEAR
2012-2016
---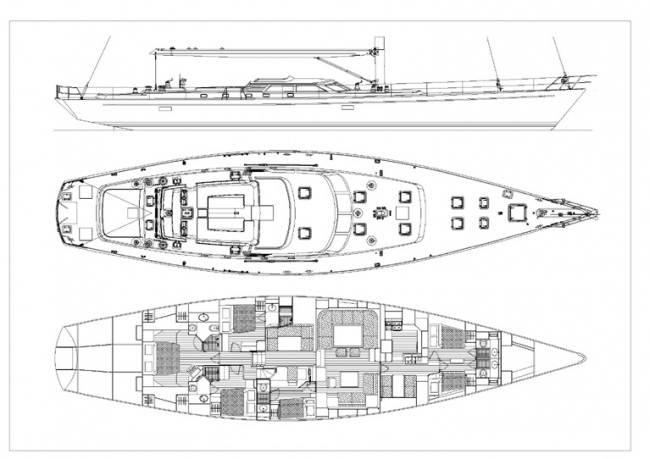 Boat Details
| | |
| --- | --- |
| Cabins: | 4 |
| Queen: | - |
| Single Cabins: | 1 |
| Showers: | 4 |
| Wash Basins: | 4 |
| Heads: | 4 |
| Electric Heads: | 4 |
Pick Up Locations
| | |
| --- | --- |
| Pref. Pick-up: | - |
| Other Pick-up: | - |
---
Details
| | |
| --- | --- |
| Refit: | 2012-2016 |
| Helipad: | No |
| Jacuzzi: | No |
| A/C: | Full |
Engine Details
Cummins 6CTA 350hp Generators: 1 x Onan 22 kW 1 x Onan 11 kW Thruster: Max Power R315/4 34Hp operated with PTO on the generator.
Fuel Consumption:
30
Cruising Speed:
10,00
Max Speed:
11,50US Gall/Hr
Locations
| | |
| --- | --- |
| Winter Area: | Caribbean Virgin Islands, Bahamas, Caribbean Leewards, Caribbean Windwards |
| Summer Area: | W. Med -Naples/Sicily, W. Med -Riviera/Cors/Sard. |
---
Amenities
Salon Tv/VCR:
Yes
Salon Stereo:
Yes
Sat Tv:
2 x Radar Furuno Navnet Arpa 1833 C
1 Furuno Navnet Repeater 1900 C
2 LCD 15 year 2008
GPS Leika MK12/D
B&G Hydra 3000 Performance year 2008
4x20/20 display
2 wind analog display
5xFull functions Display
1 External 8,4 external display
1 weather-fax Furuno

# of Videos:
-
# DVDs/Movies:
-
# CD's:
-
Camcorder:
-
Books:
-
Board Games:
Yes
Sun Awning:
Yes
Deck Shower:
Yes
Bimini:
Yes
Water Maker:
yes
| | |
| --- | --- |
| Special Diets: | Yes |
| Kosher: | Yes |
| BBQ: | Yes |
| # Dine In: | Yes |
| Minimum Age: | no minimum age |
| Generator: | 1 x Onan 22 kW 1 x Onan 11 kW |
| Inverter: | yes |
| Voltages: | 12/24/220 |
| Water Maker: | yes |
| Water Cap: | 2500 |
| Ice Maker: | Yes |
| Sailing Instructions: | no |
| Internet Access: | Onboard Computer |
| | |
| --- | --- |
| Gay Charters: | Yes |
| Nude: | Yes |
| Hairdryers: | Yes |
| # Port Hatches: | - |
| Guests Smokes: | Yes |
| Crew Smokes: | No |
| Pets Aboard: | No |
| Pet Type: | - |
| Guest Pets: | Yes |
| Children Ok: | Yes |
| Hammock: | No |
| Windscoops: | Yes |
---
Water Sports
| | |
| --- | --- |
| Dinghy size: | Zodiac Yachtline 460 - |
| Dinghy hp: | Outboard engine 60HP Yamaha 4S |
| Dinghy # pax: | 6 |
| Water Skis Adult: | Yes |
| Water Skis Kids: | Yes |
| Jet Skis: | No |
| Wave Runners: | No |
| Kneeboard: | Yes |
| Windsurfer: | No |
| Snorkel Gear: | 8 |
| Tube: | No |
| | |
| --- | --- |
| Scurfer: | Yes |
| Wake Board: | Yes |
| Kayaks 1 Pax: | No |
| Kayaks (2 Pax): | No |
| Floating Mats: | No |
| Swim Platform: | yes |
| Boarding Ladder (Loc/Type): | - |
| Sailing Dinghy: | no |
| Beach Games: | No |
| Fishing Gear: | Yes |
| Gear Type: | 5 different types fishing rods |
| Rods: | 5 |
Matteo Liberotti is 36 and from Rome, Italy. He has been Captain of Dharma since 2011 and before he was captain for the same owner on a 20 mt s/y for seven years sailing all around the Med and especially in Greece. He worked in the yachting industry for over 11 years.
He is a keen kite surfer and can easily be persuaded to demonstrate his hobby. Matteo had an interesting start in yachting when, after finishing university and briefly working in a 'real' land-based job, he bought a yacht, sailed to the Caribbean, and has remained in yachting since. He joined the Darma's owner in 2003, he's attentive, a passionate sailor, sailing instructor, very kind and gentle, professional. Matteo speaks English, Spanish, a little bit French and Italian as mother Language.

First Officer: Gavin Mann
Nationality: South Africa
Interest and language: English, Dutch. His hobbies include watching and playing rugby, snowboarding, waterski and wakeboard, and cycling.
Gavin was born in Durban. His enthusiasm for being on the water began when he started sailing dinghies with his father. This then led to Gavin living and travelling all over Greece doing Charter with his family holidays. Gavin is now in his second season in Dharma having previously worked as a day worker and delivery crew for different yachts. Gavin holds his yacht master and is working up to his Chief Mate. He is an enthusiastic member of the team and looks to deliver whatever he can to make your stay on board memorable.

Deckhand-steward: Johan Shuttle
Nationality: South Africa
Interest and language: English, Africans. His hobbies include Surf, hunting, fishing and cycling, and enjoys exercising in his free time.
Johan grew up in Cape Town, where he enjoyed everything the sea had to offer. This included Surf, wakeboarding and waterskiing. Johan went on to work on the world's largest catamaran before joining for his second season at sea. In his free time, Johan enjoys and exercising. With his helpful and cheery disposition, Johan will strive to make your stay on board as pleasant as possible.

Cook: Magdalena Godzwon
Nationality: Polish/Italian
Interests/Languages: English, Italian, German
Magdalena has been cooking since he was 18 years old and has natural passion and flair for it. Her career started in his hometown. She was then classically trained in different culinary school. She loves the Thailand and Cambodia dishes, but keep the Italian cuisine as primary. She particularly enjoys seeing culinary differences and incorporating them into new dishes. Magdalena is looking forward to tantalising your taste buds with a delightful array of mouth-watering creations.


(15 December -30 April)
Caribbean Virgin Islands, Bahamas, Caribbean Leewards, Caribbean Windwards
(1 May - 14 December)
W. Med -Naples/Sicily, W. Med -Riviera/Cors/Sard.
| | | | | | | | | | | | | | | | | | | | | | | | | | | | | | | | |
| --- | --- | --- | --- | --- | --- | --- | --- | --- | --- | --- | --- | --- | --- | --- | --- | --- | --- | --- | --- | --- | --- | --- | --- | --- | --- | --- | --- | --- | --- | --- | --- |
| Mar 2019 | 1 | 2 | 3 | 4 | 5 | 6 | 7 | 8 | 9 | 10 | 11 | 12 | 13 | 14 | 15 | 16 | 17 | 18 | 19 | 20 | 21 | 22 | 23 | 24 | 25 | 26 | 27 | 28 | 29 | 30 | 31 |
| Apr 2019 | 1 | 2 | 3 | 4 | 5 | 6 | 7 | 8 | 9 | 10 | 11 | 12 | 13 | 14 | 15 | 16 | 17 | 18 | 19 | 20 | 21 | 22 | 23 | 24 | 25 | 26 | 27 | 28 | 29 | 30 | |
| May 2019 | 1 | 2 | 3 | 4 | 5 | 6 | 7 | 8 | 9 | 10 | 11 | 12 | 13 | 14 | 15 | 16 | 17 | 18 | 19 | 20 | 21 | 22 | 23 | 24 | 25 | 26 | 27 | 28 | 29 | 30 | 31 |
| Jun 2019 | 1 | 2 | 3 | 4 | 5 | 6 | 7 | 8 | 9 | 10 | 11 | 12 | 13 | 14 | 15 | 16 | 17 | 18 | 19 | 20 | 21 | 22 | 23 | 24 | 25 | 26 | 27 | 28 | 29 | 30 | |
| Jul 2019 | 1 | 2 | 3 | 4 | 5 | 6 | 7 | 8 | 9 | 10 | 11 | 12 | 13 | 14 | 15 | 16 | 17 | 18 | 19 | 20 | 21 | 22 | 23 | 24 | 25 | 26 | 27 | 28 | 29 | 30 | 31 |
| Aug 2019 | 1 | 2 | 3 | 4 | 5 | 6 | 7 | 8 | 9 | 10 | 11 | 12 | 13 | 14 | 15 | 16 | 17 | 18 | 19 | 20 | 21 | 22 | 23 | 24 | 25 | 26 | 27 | 28 | 29 | 30 | 31 |
| Sep 2019 | 1 | 2 | 3 | 4 | 5 | 6 | 7 | 8 | 9 | 10 | 11 | 12 | 13 | 14 | 15 | 16 | 17 | 18 | 19 | 20 | 21 | 22 | 23 | 24 | 25 | 26 | 27 | 28 | 29 | 30 | |
| Oct 2019 | 1 | 2 | 3 | 4 | 5 | 6 | 7 | 8 | 9 | 10 | 11 | 12 | 13 | 14 | 15 | 16 | 17 | 18 | 19 | 20 | 21 | 22 | 23 | 24 | 25 | 26 | 27 | 28 | 29 | 30 | 31 |
| Nov 2019 | 1 | 2 | 3 | 4 | 5 | 6 | 7 | 8 | 9 | 10 | 11 | 12 | 13 | 14 | 15 | 16 | 17 | 18 | 19 | 20 | 21 | 22 | 23 | 24 | 25 | 26 | 27 | 28 | 29 | 30 | |
| Dec 2019 | 1 | 2 | 3 | 4 | 5 | 6 | 7 | 8 | 9 | 10 | 11 | 12 | 13 | 14 | 15 | 16 | 17 | 18 | 19 | 20 | 21 | 22 | 23 | 24 | 25 | 26 | 27 | 28 | 29 | 30 | 31 |
| Jan 2020 | 1 | 2 | 3 | 4 | 5 | 6 | 7 | 8 | 9 | 10 | 11 | 12 | 13 | 14 | 15 | 16 | 17 | 18 | 19 | 20 | 21 | 22 | 23 | 24 | 25 | 26 | 27 | 28 | 29 | 30 | 31 |
| Feb 2020 | 1 | 2 | 3 | 4 | 5 | 6 | 7 | 8 | 9 | 10 | 11 | 12 | 13 | 14 | 15 | 16 | 17 | 18 | 19 | 20 | 21 | 22 | 23 | 24 | 25 | 26 | 27 | 28 | 29 | | |
---