SWEET ESCAPE
$99,000 - $125,000 / WEEK

Plus Expenses
CHARGES
FROM
$99,000
Plus Expenses
---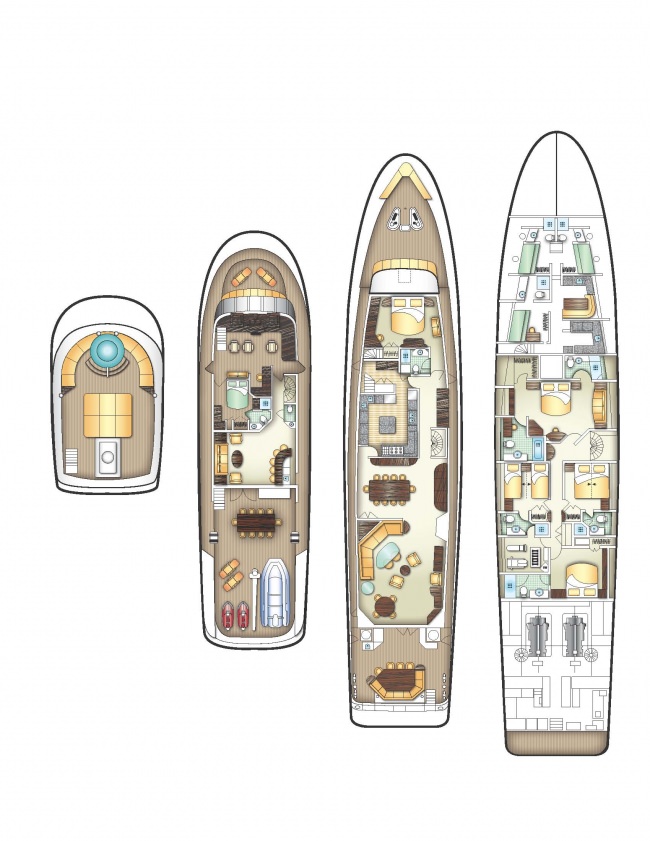 Boat Details
| | |
| --- | --- |
| Cabins: | 6 |
| King: | 3 |
| Queen: | - |
| Single Cabins: | 1 |
| Showers: | 5 |
| Wash Basins: | 10 |
| Heads: | 7 |
| Electric Heads: | - |
Pick Up Locations
| | |
| --- | --- |
| Pref. Pick-up: | - |
| Other Pick-up: | - |
---
Details
| | |
| --- | --- |
| Refit: | 2017 |
| Helipad: | No |
| Jacuzzi: | Yes |
| A/C: | Full |
Engine Details
2 x C32 Caterpillars 1650hp each 2011 2 x John Deere 75kW 2011
Fuel Consumption:
50
Cruising Speed:
13
Max Speed:
-
Locations
| | |
| --- | --- |
| Winter Area: | Bahamas |
| Summer Area: | Bahamas |
---
Amenities
Salon Tv/VCR:
Yes
Salon Stereo:
Yes
Sat TV:
VSAT internet
HD 4K Technology TV�s , internet KVH plus cellular and Wifi boosters installed, control-4-home entertainment system, hard drive movie server,

# of Videos:

Warning: array_filter() expects parameter 1 to be array, string given in /home/bvisail/public_html/wp-content/plugins/yacht-cya/templates/shortcode-ebrochure.php on line 339
-
# DVDs/Movies:
-
# CD's:
-
Camcorder:
-
Books:
-
Board Games:
Yes
Sun Awning:
Yes
Deck Shower:
Yes
Bimini:
Yes
Water Maker:
-
| | |
| --- | --- |
| Special Diets: | Yes |
| Kosher: | Inq |
| BBQ: | Yes |
| # Dine In: | - |
| Minimum Age: | - |
| Generator: | - |
| Inverter: | - |
| Voltages: | - |
| Water Maker: | - |
| Water Cap: | - |
| Ice Maker: | Yes |
| Sailing Instructions: | - |
| Internet Access: | Onboard WIFI |
| | |
| --- | --- |
| Gay Charters: | Inq |
| Nude: | Inq |
| Hairdryers: | Yes |
| # Port Hatches: | - |
| Guests Smokes: | - |
| Crew Smokes: | No |
| Pets Aboard: | No |
| Pet Type: | - |
| Guest Pets: | - |
| Children Ok: | Yes |
| Hammock: | - |
| Windscoops: | - |
---
Water Sports
| | |
| --- | --- |
| Dinghy size: | 39� Nortech towed tender |
| Dinghy hp: | - |
| Dinghy # pax: | - |
| Water Skis Adult: | Yes |
| Water Skis Kids: | Yes |
| Jet Skis: | 4 |
| Wave Runners: | - |
| Kneeboard: | Yes |
| Windsurfer: | - |
| Snorkel Gear: | Yes |
| Tube: | - |
| | |
| --- | --- |
| Scurfer: | - |
| Wake Board: | Yes |
| Kayaks 1 Pax: | Yes |
| Kayaks (2 Pax): | Yes |
| Floating Mats: | - |
| Swim Platform: | yes, with boarding ladder |
| Boarding Ladder (Loc/Type): | - |
| Sailing Dinghy: | - |
| Beach Games: | Yes |
| Fishing Gear: | Yes |
| Gear Type: | - |
| Rods: | - |
Mark Raleigh- Captain

Mark grew up in a small coastal town called Broome in Western Australia. He spent his younger years on the ocean and went onto pursue a career in the maritime industry. Firstly becoming a pearl diver of the coast of Australia followed by working on Dive Expedition vessels and then onto superyachts in 2006. Mark has worked onboard superyachts ranging up to 115 meters. Mark has thorough knowledge of cruising worldwide and has taken command of vessels in the South Pacific, Caribbean, Australia and Europe and has crossed the Pacific, Indian and
Atlantic oceans. He has gained extensive charter experience and has a relaxed personality that will ensure an unforgettable vacation. He holds his MCA Master 500gt + Master 3000gt Limited and is also an avid PADI Dive Instructor. Has a passion for spearfishing, kiteboarding, surfing and underwater photography.



Gavin Skolnick- Chef

A born Bahamian and lawyer by trade but private chef and culinarian by passion, is based out of the tropical island of New Providence in The Bahamas. He has worked extensively over the last 6 years on both land based and aquatic venues and has consistently worked on both private and charter motor and sailing yachts, ranging from just a mere 30m. all the way up to 100m.+ mega yachts. He's also cooked and served in some of the finest restaurants throughout the Bahamas, including Sip Sip, Harbour Island and at Firefly Sunset Resort, Hopetown, Elbow Cay. Not being relegated to just the local market, Chef Gavin has had the pleasure of working for many of the world's elites, not only here in the Bahamas, but also many remote private islands, private villas, estates and vineyards the worldwide. His recent travels have brought him to The Galapagos, Patagonia, Antibes, Majorca, Anguilla,The Amalfi coast, the B.V.I's, Sardinia and Bodrum. From large gatherings to small intimate private vacation escapes, Chef Gavin is experienced in running a tight, clean galley. Whether you're in need of a chef for short turn around charters, provisioning in remote locales, cooking in high volumes or a chef that understands the nature of your specific dietary restrictions and/or food sensitivities, Chef Skolnick has the savvy and experience you need, to tantalise the taste buds and make your culinary experience truly remarkable.



Estelle Knezevich- Chief Stew

From the beautiful west coast of Australia, Elle Started yachting in 2014. Combining her love for the ocean and hospitality she has travelled extensively working on a variety of superyachts. She has experience as a lifeguard/ swim instructor, where her first aid & safety skills have been put into practice. With a bubbly and attentive personality, Elle is passionate about luxury service and always delivers with a smile.



Jordan Bennett- Second Stew

Jordan was born in Michigan, USA, where she grew up surrounded by the Great Lakes. Prior to her yachting career, she was occupied with studying, competitive travel softball and volunteer work. When her mom spontaneously moved to the Caribbean to live on a sailboat, Jordan followed and fell in love with life on the water. Jordan is passionate about hospitality and is always finding ways to improve her guest's experiences. Jordan's keen eye for detail and her infectious smile will be sure to brighten the day and make guests feel right at home.



Amanda Kaczay- Third Stew / Dive Instructor

Amanda was born and raised on the beautiful and often challenging shores of Lake Erie, in Bay Village, Ohio. She spent her summers boating, exploring and enjoying the lake and nearby islands. She went to The University of South Carolina to get her degree in business management and marketing, but it was her minor degree in fashion merchandising that served to launch her career in fashion retail management. After five years in the retail industry Amanda was in need of a change and joined her first motor yacht as a Stewardess. After working for two years she pursued her passion for Scuba Diving and travelled to Utila, Honduras to complete her Divemaster and Instructor courses. Amanda is a very easy-going person and quick to make guests feel at home. She also enjoys other water activities such as kayaking, surfing, spearfishing and paddleboarding.



Kieran Buzza- Engineer

Kieran grew up in the south west of Australia. After serving in the Australian Navy for 6 years where he was deployed to various locations, he caught the travel bug and backpacked through Europe and Asia before discovering the yachting industry. Kieran has since gained many years of experience as an Engineer on various types of yachts ranging between 20-50 meters. Kieran is passionate about experiencing new cultures, seeking new adventures and being on the water. His playful personality along with his extensive knowledge of engineering will ensure
that all guests have a safe and enjoyable experience onboard.



Jack Haywood- First Mate

Jack hails from the UK, born in Sheffield and grew up there until he was 18 when he started spending more time in the Bahamas and ending up working on Yachts. He has been privileged to visit a number of Caribbean Islands with work, as well as a lot of the East and West coast of the USA. He has experience working on yachts between 108''-220'', has a huge passion for cooking and enjoys soccer and rugby.



Joshua Albury- Deckhand

Joshua is born and bread in the Exumas, Bahamas, living so close to the ocean and learning how to swim from 4 years of age, he grew a love for the water. He started working in the hotel industry; and after some years the Yachting industry caught his eye, so he combined his love for hospitality and love for water and took a shot at it. He loves to make people smile and laugh as with each guest that crosses his path, he has a passion for the ocean and enjoys fishing, scuba diving and freediving.

(15 December -30 April)
Bahamas
(1 May - 14 December)
Bahamas
| | | | | | | | | | | | | | | | | | | | | | | | | | | | | | | | |
| --- | --- | --- | --- | --- | --- | --- | --- | --- | --- | --- | --- | --- | --- | --- | --- | --- | --- | --- | --- | --- | --- | --- | --- | --- | --- | --- | --- | --- | --- | --- | --- |
| Apr 2021 | 1 | 2 | 3 | 4 | 5 | 6 | 7 | 8 | 9 | 10 | 11 | 12 | 13 | 14 | 15 | 16 | 17 | 18 | 19 | 20 | 21 | 22 | 23 | 24 | 25 | 26 | 27 | 28 | 29 | 30 | |
| May 2021 | 1 | 2 | 3 | 4 | 5 | 6 | 7 | 8 | 9 | 10 | 11 | 12 | 13 | 14 | 15 | 16 | 17 | 18 | 19 | 20 | 21 | 22 | 23 | 24 | 25 | 26 | 27 | 28 | 29 | 30 | 31 |
| Jun 2021 | 1 | 2 | 3 | 4 | 5 | 6 | 7 | 8 | 9 | 10 | 11 | 12 | 13 | 14 | 15 | 16 | 17 | 18 | 19 | 20 | 21 | 22 | 23 | 24 | 25 | 26 | 27 | 28 | 29 | 30 | |
| Jul 2021 | 1 | 2 | 3 | 4 | 5 | 6 | 7 | 8 | 9 | 10 | 11 | 12 | 13 | 14 | 15 | 16 | 17 | 18 | 19 | 20 | 21 | 22 | 23 | 24 | 25 | 26 | 27 | 28 | 29 | 30 | 31 |
| Aug 2021 | 1 | 2 | 3 | 4 | 5 | 6 | 7 | 8 | 9 | 10 | 11 | 12 | 13 | 14 | 15 | 16 | 17 | 18 | 19 | 20 | 21 | 22 | 23 | 24 | 25 | 26 | 27 | 28 | 29 | 30 | 31 |
| Sep 2021 | 1 | 2 | 3 | 4 | 5 | 6 | 7 | 8 | 9 | 10 | 11 | 12 | 13 | 14 | 15 | 16 | 17 | 18 | 19 | 20 | 21 | 22 | 23 | 24 | 25 | 26 | 27 | 28 | 29 | 30 | |
| Oct 2021 | 1 | 2 | 3 | 4 | 5 | 6 | 7 | 8 | 9 | 10 | 11 | 12 | 13 | 14 | 15 | 16 | 17 | 18 | 19 | 20 | 21 | 22 | 23 | 24 | 25 | 26 | 27 | 28 | 29 | 30 | 31 |
| Nov 2021 | 1 | 2 | 3 | 4 | 5 | 6 | 7 | 8 | 9 | 10 | 11 | 12 | 13 | 14 | 15 | 16 | 17 | 18 | 19 | 20 | 21 | 22 | 23 | 24 | 25 | 26 | 27 | 28 | 29 | 30 | |
| Dec 2021 | 1 | 2 | 3 | 4 | 5 | 6 | 7 | 8 | 9 | 10 | 11 | 12 | 13 | 14 | 15 | 16 | 17 | 18 | 19 | 20 | 21 | 22 | 23 | 24 | 25 | 26 | 27 | 28 | 29 | 30 | 31 |
| Jan 2022 | 1 | 2 | 3 | 4 | 5 | 6 | 7 | 8 | 9 | 10 | 11 | 12 | 13 | 14 | 15 | 16 | 17 | 18 | 19 | 20 | 21 | 22 | 23 | 24 | 25 | 26 | 27 | 28 | 29 | 30 | 31 |
| Feb 2022 | 1 | 2 | 3 | 4 | 5 | 6 | 7 | 8 | 9 | 10 | 11 | 12 | 13 | 14 | 15 | 16 | 17 | 18 | 19 | 20 | 21 | 22 | 23 | 24 | 25 | 26 | 27 | 28 | | | |
| Mar 2022 | 1 | 2 | 3 | 4 | 5 | 6 | 7 | 8 | 9 | 10 | 11 | 12 | 13 | 14 | 15 | 16 | 17 | 18 | 19 | 20 | 21 | 22 | 23 | 24 | 25 | 26 | 27 | 28 | 29 | 30 | 31 |
---