MURPHY'S LAW
$65,000 / WEEK
---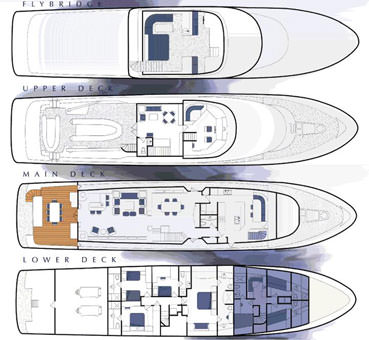 Boat Details
| | |
| --- | --- |
| Cabins: | 4 |
| Queen: | 1 |
| Single Cabins: | 1 |
| Showers: | - |
| Wash Basins: | - |
| Heads: | 6 |
| Electric Heads: | - |
Pick Up Locations
| | |
| --- | --- |
| Pref. Pick-up: | - |
| Other Pick-up: | - |
---
Details
| | |
| --- | --- |
| Refit: | 2013 |
| Helipad: | No |
| Jacuzzi: | Yes |
| A/C: | Full |
Engine Details
Twin Detroit DDEC16V-92TA's-1450 hp
Fuel Consumption:
70/75
Cruising Speed:
11 Knots
Max Speed:
12 KnotsUS Gall/Hr
Locations
| | |
| --- | --- |
| Winter Area: | Bahamas |
| Summer Area: | Bahamas |
---
Amenities
| | |
| --- | --- |
| Salon Tv/VCR: | Yes |
| Salon Stereo: | Yes |
| Sat Tv: | VSAT |
| # of Videos: | - |
| # DVDs/Movies: | - |
| # CD's: | - |
| Camcorder: | - |
| Books: | - |
| Board Games: | Yes |
| Sun Awning: | Yes |
| Deck Shower: | Yes |
| Bimini: | Yes |
| Water Maker: | - |
| | |
| --- | --- |
| Special Diets: | Inq |
| Kosher: | Inq |
| BBQ: | Yes |
| # Dine In: | - |
| Minimum Age: | - |
| Generator: | - |
| Inverter: | - |
| Voltages: | - |
| Water Maker: | - |
| Water Cap: | - |
| Ice Maker: | Yes |
| Sailing Instructions: | - |
| Internet Access: | Onboard WIFI |
| | |
| --- | --- |
| Gay Charters: | Inq |
| Nude: | Inq |
| Hairdryers: | Yes |
| # Port Hatches: | - |
| Guests Smokes: | - |
| Crew Smokes: | No |
| Pets Aboard: | Yes |
| Pet Type: | - |
| Guest Pets: | No |
| Children Ok: | Yes |
| Hammock: | - |
| Windscoops: | - |
---
Water Sports
| | |
| --- | --- |
| Dinghy size: | 29 World Cat |
| Dinghy hp: | - |
| Dinghy # pax: | 15' Novurania |
| Water Skis Adult: | Yes |
| Water Skis Kids: | Yes |
| Jet Skis: | - |
| Wave Runners: | 2 |
| Kneeboard: | Yes |
| Windsurfer: | - |
| Snorkel Gear: | Yes |
| Tube: | Yes |
| | |
| --- | --- |
| Scurfer: | - |
| Wake Board: | Yes |
| Kayaks 1 Pax: | Yes |
| Kayaks (2 Pax): | - |
| Floating Mats: | Yes |
| Swim Platform: | - |
| Boarding Ladder (Loc/Type): | - |
| Sailing Dinghy: | - |
| Beach Games: | Yes |
| Fishing Gear: | Yes |
| Gear Type: | - |
| Rods: | - |
Captain Lee Danielson is originally from St. Thomas and grew up on the water traveling through the islands. Lee started out in the luxury yacht business running short-term corporate charters and then moved into the term charters working his way from mate to engineer to captain. He has worked for the Murphy family for the past 15 years doing trips and charters in South Florida and the Bahamas and his past yachts have included the 124' Broward Murphy's Law, Pegasus and Fantasy. He has a very easy going, can do attitude and he is very professional with all guests. He enjoys fishing, wave runners, snorkeling and has extensive knowledge of the Bahamas. He and his crew are keen to show new guests all of the great spots throughout the Bahamas and keep them coming back year after year aboard Murphy's Law.

Mate Cody Banc joins Murphy's Law with energy, enthusiasm and a hard-working attitude. After school, Cody spent time to obtain all his certifications and licenses and soon found a position as deckhand on a private yacht. Cody then did a trans-Atlantic crossing on a 200 foot and was soon promoted to 2nd engineer – something he enjoys doing besides serving guests and driving the tender to your next secret snorkeling spot! After a couple years working in the industry, Cody has traveled much, learnt a lot and truly enjoys what he does. Cody is always willing to teach the guests a new thing and show them a good time on board Murphy's Law.

Chief Stewardess Shannon Jones is a dynamic young lady who enjoys the hustle and bustle of a busy boat. Shannon thrives on the interesting aspects of serving guests, while planning theme nights as the yacht anchors at an idyllic spot for sunset views followed by a lovely dinner. She enjoys creating all these details as per your preferences, as she aims to please and ensure a memorable time on board. Working as part of a team, she has been on both private yachts and busy charter yachts cruising the Mediterranean, Bahamas and New England. Shannon learnt a lot onboard Lady Sara, that won the yacht charter crew of the year over 50m in 2017. "It's all about teamwork and a great attitude." She has a great love for the ocean, is a quick learner, positive by nature and highly adaptable in all situations. Shannon is an avid diver, certified yoga teacher and loves to share these passions with her crew and guests alike.

Second Stewardess Courtney Morgan has recently joined the Murphy's Law team and she is looking forward to experiencing the Bahamas and new adventures. Fun, friendly and full of life is how she is known by her new crew members. Courtney loves to interact with guests, enjoys the fast pace of getting everything in order for a successful charter. Prior to yachting Morgan was a child educator and also worked in Make Up Artistry. She is detailed and manages her time well. Courtney got her first sailing experience with Ensign racing and enjoyed the comradery and adventure. She found an opportunity to work on Motor yachts and hasn't looked back since. She enjoys traveling, has a deep love for the ocean, paddle boarding, sailing and teaching. Courtney looks forward to having you on board Murphy's Law.

Chef Dean Sheather is from down under with qualifications in the Culinary and Hospitality trade from TAFE Culinary Colleges of Australia. He has over 15 years of experience and extensive training in all areas of the industry including, restaurants, bakeries, hotels, culinary schools and motor yachts. He is passionate about cooking and tries to keep up to date with modern cooking techniques, styles and creativity in his food. Chef Dean enjoys cooking a variety of light and healthy cuisines including Asian, Middle Eastern, French, Mediterranean and many more. He has travelled to Central America, Mexico and Columbia to learn Spanish and surf, but ended up in places learning to cook authentic dishes in the local restaurants. Chef Dean enjoys traveling and especially like to provision form the local vendors in the Bahamas, trading some fabulous baked pastries for some great ingredients. He has worked on large and small private and charter yachts. Chef Dean knows the meticulous planning, provisioning and determination it takes to complete a successful charter and have repeat charters. He enjoys anything outdoors, surfing, hiking, swimming and baking of course. Be sure to ask for your favorite dessert or pastry on board, he will gladly make it and serve you with a smile.

(15 December -30 April)
Bahamas
(1 May - 14 December)
Bahamas
| | | | | | | | | | | | | | | | | | | | | | | | | | | | | | | | |
| --- | --- | --- | --- | --- | --- | --- | --- | --- | --- | --- | --- | --- | --- | --- | --- | --- | --- | --- | --- | --- | --- | --- | --- | --- | --- | --- | --- | --- | --- | --- | --- |
| Mar 2019 | 1 | 2 | 3 | 4 | 5 | 6 | 7 | 8 | 9 | 10 | 11 | 12 | 13 | 14 | 15 | 16 | 17 | 18 | 19 | 20 | 21 | 22 | 23 | 24 | 25 | 26 | 27 | 28 | 29 | 30 | 31 |
| Apr 2019 | 1 | 2 | 3 | 4 | 5 | 6 | 7 | 8 | 9 | 10 | 11 | 12 | 13 | 14 | 15 | 16 | 17 | 18 | 19 | 20 | 21 | 22 | 23 | 24 | 25 | 26 | 27 | 28 | 29 | 30 | |
| May 2019 | 1 | 2 | 3 | 4 | 5 | 6 | 7 | 8 | 9 | 10 | 11 | 12 | 13 | 14 | 15 | 16 | 17 | 18 | 19 | 20 | 21 | 22 | 23 | 24 | 25 | 26 | 27 | 28 | 29 | 30 | 31 |
| Jun 2019 | 1 | 2 | 3 | 4 | 5 | 6 | 7 | 8 | 9 | 10 | 11 | 12 | 13 | 14 | 15 | 16 | 17 | 18 | 19 | 20 | 21 | 22 | 23 | 24 | 25 | 26 | 27 | 28 | 29 | 30 | |
| Jul 2019 | 1 | 2 | 3 | 4 | 5 | 6 | 7 | 8 | 9 | 10 | 11 | 12 | 13 | 14 | 15 | 16 | 17 | 18 | 19 | 20 | 21 | 22 | 23 | 24 | 25 | 26 | 27 | 28 | 29 | 30 | 31 |
| Aug 2019 | 1 | 2 | 3 | 4 | 5 | 6 | 7 | 8 | 9 | 10 | 11 | 12 | 13 | 14 | 15 | 16 | 17 | 18 | 19 | 20 | 21 | 22 | 23 | 24 | 25 | 26 | 27 | 28 | 29 | 30 | 31 |
| Sep 2019 | 1 | 2 | 3 | 4 | 5 | 6 | 7 | 8 | 9 | 10 | 11 | 12 | 13 | 14 | 15 | 16 | 17 | 18 | 19 | 20 | 21 | 22 | 23 | 24 | 25 | 26 | 27 | 28 | 29 | 30 | |
| Oct 2019 | 1 | 2 | 3 | 4 | 5 | 6 | 7 | 8 | 9 | 10 | 11 | 12 | 13 | 14 | 15 | 16 | 17 | 18 | 19 | 20 | 21 | 22 | 23 | 24 | 25 | 26 | 27 | 28 | 29 | 30 | 31 |
| Nov 2019 | 1 | 2 | 3 | 4 | 5 | 6 | 7 | 8 | 9 | 10 | 11 | 12 | 13 | 14 | 15 | 16 | 17 | 18 | 19 | 20 | 21 | 22 | 23 | 24 | 25 | 26 | 27 | 28 | 29 | 30 | |
| Dec 2019 | 1 | 2 | 3 | 4 | 5 | 6 | 7 | 8 | 9 | 10 | 11 | 12 | 13 | 14 | 15 | 16 | 17 | 18 | 19 | 20 | 21 | 22 | 23 | 24 | 25 | 26 | 27 | 28 | 29 | 30 | 31 |
| Jan 2020 | 1 | 2 | 3 | 4 | 5 | 6 | 7 | 8 | 9 | 10 | 11 | 12 | 13 | 14 | 15 | 16 | 17 | 18 | 19 | 20 | 21 | 22 | 23 | 24 | 25 | 26 | 27 | 28 | 29 | 30 | 31 |
| Feb 2020 | 1 | 2 | 3 | 4 | 5 | 6 | 7 | 8 | 9 | 10 | 11 | 12 | 13 | 14 | 15 | 16 | 17 | 18 | 19 | 20 | 21 | 22 | 23 | 24 | 25 | 26 | 27 | 28 | 29 | | |
---